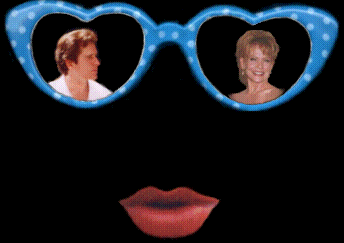 This site has been honored as the highest rated non-official
All My Children
website on the World Wide Web with 4 stars from:


Awarded by the "International Association
of Web Masters & Designers."
In recognition of creativity,
integrity and excellence on the Web.
It's mine!....All mine!

Fans of
this website is for you!!
We have .wav files for (we hope) all your favorite characters from the better addresses around Pine Valley. They are located at the addresses you know and love in and around the town of Pine Valley, USA, just click on the title of the page you want! The cuts include memorable comments, quips and one-liners from the entire history of AMC. You will be amazed at the great new dimension of enjoyment, having sounds from your favorite characters will add to your chatroom experience in AOL chat rooms, or to replace your mundane computer command sounds with your favorite AMC's stars voice!

I keep this website free of pesty pop-ups and ugly banners hawking products or services and won't try and sell you a thing! I incur all costs. Please be courteous; this is NOT a download supermarket for other sites to load from. If you wish to include any of this material on a website please ask for permission and then when granted, load the files directly into your website's files. These various webpages pages were made solely for the purpose of enjoyment and entertainment for all AMC online and chat fans, as a friendly place to get their favorite Pine Valley characters on sound wav. Nothing on this site can be used for commercial gain. All wavs and animated AMC characters are the creation of ęSEAHAAS.

The majority of the sounds are stored at the various residences around town, but there are a few items here at the Town Square. They include different versions of the show's theme music (including one that clucks!) as well as a couple of funny bits. Give them a listen, if you like.......

Click on the .wav title to access the cut. "Open file from location" to listen, SAVE AS to store the cut.
Note: At the present time due to hotlinkers most of the themes on this page are available through email request only.

The Music...The Themes

amchikns.wav.....The original theme as you've NEVER heard it before! This is the version Tad Martin prefers!

amclong.wav.....The primary show theme, pre-1985. This is the one that puts babies to sleep and can still comfort you on a rainy day!

amcshort.wav.....As above, but shorter version.

almycldn.wav.....Theme just prior to the current (97-98) season

amc95.wav....1995 version of show theme.

amc97.wav....The show theme from 1997 till 2002.

amc2002.wav....The latest version of The All My Children show theme debuted in Autumn, 2002.


jetstars.wav....An imaginary situation that just might tickle your fancy. Imagine a contest between the leading ladies of Pine Valley......A contest to determine the biggest b***h in town! "Sunday! Sunday! Sunday!"

bonanza.wav....We all love David Canary, so it's only fitting that we include the theme from the show that first made him famous! Since seeing a certain somebody in a chicken suit made him a "tad" jealous, Adam decided to break out the old cowboy duds!



The following pages are available. There may be an addition or two in the future, but for the time being, we think that we have done a pretty good job of surveying the real estate in Pine Valley!
Please be aware that these pages are BIG! They contain .wavfiles and animated images, and the first time you visit, they will take a while to load. Please be patient. Thanks!


---Myrtle's Boardinghouse---Check in at Myrtle's!! Rae Cummings now has her permanent mailing address there, Gloria and Kelly Cole are the featured guests.

---Linden House---Time to visit the Diva Kane and her wise mother, Mona, with memories from 20 Adams Street.

---The Cabinet Of Dr. David Hayward---Do NOT bypass this page! Stop in for a check up with the number one heart healer in Pine Valley...and leave us not forget Mother...Vanessa, and her pretentious pratt Leo DuPres. On your way out don't miss Dr. David's Wild Ride, I'm sure he'd be delighted to drive you to any place your heart desires.

---The Loft ~ Lavery's Lair---Romanticize with Ryan inside his retreat for the for the lovelorn....Also known to some as "Wyan's Woom"....

---Wildwind---The Marick Estate---Let's go over by the river and almost through the woods to Dimitri and Edmund's mansion! Peggy, Princess Gillian, Eugenia, Alex and Maria also await.

---The Marick Mausoleum--- For fellow fans of the late, great Hugo Marick....He now has his own page! Faithful servant Helga's found her final resting place here as well....

---The Chandler Mansion---Adam and Stuart's residence is filled with interesting bits and pieces...plus selections from Skye.

---Jackson Montgomery's Penthouse---The DA's resigned!! Pine Valley's court official turned court jester. Get an animated cyber kiss from Jackson, while you listen or load up some very entertaining sound wavs. Derek is there to give you a police escort back!....All approved....(or at least put up with)....by Walt Willey himself!....

---The Colby Holding Company---Marian and Liza, Dahlllings! Dramas and Traumas! Various comments from Marian who wants to hold a man, and Liza, who wants to hold the money! All in wav format for chatroom playback! They'll send send Shivers to your Elbows and Toes....Dahlllings!

---Wallingford Mansion---Feel free to frequent Phoebe's family and friends! Eloquent English expressions with Babblings from Brooke And Professor Langley's Language 101.

---Crossland Manor - Tad's Place---A taste of Tad and downhome dialogue droppings from Dixie! Also, some Pigeon Hollow purity from houseguest Becca Tyree.....

---1219 Hillcrest...The Martin House---A jigger of Jake, a jolt of Joe and a cup of Kelsey!

---The Dillon House!---Let's go see what Trevor, Janet, Harold, Amanda and the TimMan are doin'..

---Cortlandt Manor---Ms. Opal and Mr. Palmer are waiting to give you some down-home philosophy! Also staring Opal's off the record offspring....Adrian Sword and house guest Kevin adds some starry eyed thoughts.

---The Sounds Of Salsa--- Your table is waiting as Hayley and Mateo welcome you to their very own nightclub!(formerly Holiday's)....and Sweeties....don't forget to join Arlene for a tall cool one at the bar.

---The Pine Cone Motel--- Come visit the Pine Valley landmark, where the elite meet to cheat. Wil Cortland, Kendall Hart and Tanner Jordan are waiting for the other guests to arrive!! Before you check out, don't forget to visit lovely Willow Lake's forest of ovblivian, where we find parked...Esther's Trailer!"

---Front Street---Come on down to Front Street! Pine Valley's action area! Noah and Julia are waiting there! Belinda and Officer Taylor Cannon add a few comments....

---Pine Valley's VALLEY INN--- The place and the guests are definitely classier than the Pine Cone! Among the current guests are "Roy....Mike Roy"....Nick Davis, Jeremy Hunter, Doctor Kinder and Paolo to make you feel rested and relaxed....plus, in a special Cameo Role, Dom Deluise!

---CYCLOPS!---Let us now walk through the shadder of the Valley Of Pines...if we dare, Fair Maids and Kind Gentlemen..where John Henry Rockerfeller alas Billy Clyde Tuggle awaits..it's a Real Blast...ya'll...! !
It's back online and bigger and better than ever before!



This year we did something a bit different!
Click the title below to view original closeup photos of your favorite AMC Stars
at ABC's Sixth Annual Super Soaps Weekend in Shockwave Video!

Also here's a fun video...
SEA-Net's AMC Funny Faces....a shorter Shockwave presentaion of your favorite
All My Children actors caught at their best?...OK, most expressive moments on film.


Three interview videos featuring your web host EJ, which aired on
"The New VI," British Columbia, Canada's ABC TV affiliate.



...But Wait!...that's not all! Click below to get to...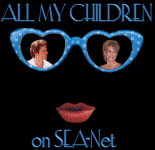 MORE FAB SITES FROM SEA-NET FOR AMC!

Got something to say about one of the many sites you have visted at SEA-Net?
Click on guestbook and sign in please


Want more Websites...of different color?!?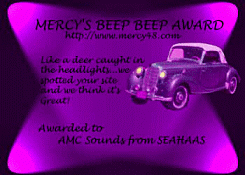 Please be sure to come back and watch us grow!! And remember that the pages will never be REALLY done, since great new lines happen all the time!!
And if you think we will EVER be done, just ask this guy!!

Powered by counter.bloke.com



Much of the content within this website was created using materials originally broadcast by ABC Television. To reproduce, redistribute or use for commercial purpose any of the materials copyrighted by Capital Cities/ABC Television is against the law. If you wish to reuse this material for any commercial purpose, you must first obtain the written permission of the copyright holder, Capital Cities/ABC Television.